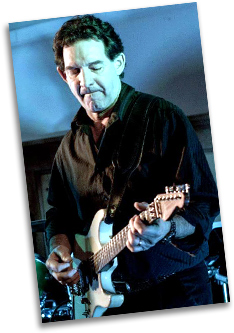 Stewart Marsh grew up on the beaches of Southern California, and began playing guitar at the age of 12. Influenced by classic rock, country, blues, and R&B, he played in local and regional bands that shared the stage with: The Ventures, Poco, Ambrosia, Dave Mason, Pablo Cruz and many more. As a singer, songwriter and premier guitarist, Stewart has contributed to various media projects in television and through his studio work in some of Los Angeles and Portland's most renowned studios..
Portland has brought continued success in various separate endeavors. Stewart's country chops has given him the opportunity to play with top local country bands. He's had the privilege of opening for Little Big Town, Craig Morgan to name a few.
Stewart goes back to his roots, contributing rockin' guitar for audience favorites for 5 Guys Named Moe such as Free's "Alright Now", Edgar Winter's "Free Ride", 38 Special's "Hang on Loosely", Kenny Loggin's "FootLoose", Van Halen's "Jump", ACDC's "You Shook Me All Night Long" and Bon Jovi's "Livin' on a Prayer".